Center for Future Pioneering Research on the Humanosphere
Updated: 2022/04/12
The Center for Future Pioneering Research on the Humanosphere was established in April 2022. Its purpose is to enhance the ability of RISH to pioneer interdisciplinary and exploratory study areas utilizing outcomes from cooperative research projects.
To achieve this, the Center consists of several independent research groups (we call them "research units") that are led by young and mid-career researchers. We foster the development of new small-island-type fields of humanosphere science, which is parallel to the medium-term objectives of Kyoto University.
We also support studies by students and young researchers. The research units in the Center are not permanent, and we review their activities every three years and promote new units through personnel exchanges with the Core Research Divisions.
Furthermore, the Center aims to create social innovations through the practical application of knowledge obtained through fundamental research. The research-unit activities will emphasize collaboration among industry, government, and academia.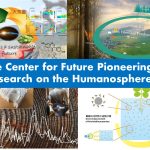 Unit for Atmosphere-Plant-Soil interaction Research
Unit for Advanced Measurement and Technology Development
Unit for Biomass Product Tree Industry-Academia Collaborative Research