2016 Activity Report for Mission5-4: Scientific Research on Wood Selection and its Contribution to Society: Wooden Architecture, Living Environments, Wood Resources/Databases, and Transition of Usage
Updated: 2018/05/18
Research1: Investigation of wood information in East Asia (Junji Sugiyama et al.)
Our wood-based resource culture has been strongly influenced by East Asian countries. Exchanging information with neighboring countries opens a new horizon for understanding mutual relationships.
Research Activities
Traditional wood selection in Japan.
Investigation of wood culture in East Asia.
Preservation and identification of waterlogged wood.
Publications, etc.
Hwang SW, Lee WH, Horikawa Y, Sugiyama ,Identification of Pinus species related to historic architecture in Korea by using NIR chemometric approaches, Journal of Wood Science 62(2), 156-167, 2016.
杉山淳司(分担執筆)、神戸女子大学古典芸能研究センター編,能面を科学する.世界の仮面と演劇,勉誠出版,2016.
Research2: Dendroclimatology in equatorial regions (Toshitaka Tsuda et al.)
We will apply the analysis techniques of dendroclimatology, such as the tree growth rate and isotope analysis, to tropical trees. Firstly, we survey samples of Teak and Sunkai, that produce annual tree rings, in collaboration with LIPI and FOERDIA.
Research Activities
Collection of tropical wood samples.
Measurement of ring width and chemical components.
Research3: Wooden building technologies: innovation based on traditional wisdom (Hiroshi Isoda et al.)
Aiming to create a safe and secure type of wooden living space for the future, we will deepen our understanding of the wisdom embodied in wood technologies by investigating traditional or modern wooden buildings. On the basis of that knowledge, we will develop high-performance wooden materials.
Research Activities
Investigation of construction technologies in wooden buildings in Asia.
By exploring the technologies used in traditional wooden buildings, we will understand the wisdom embodied in wood technologies that have been developed empirically in order to assess those technologies for workability, durability, and a comfortable living environment while ensuring structural safety based on the characteristics of the wood materials used.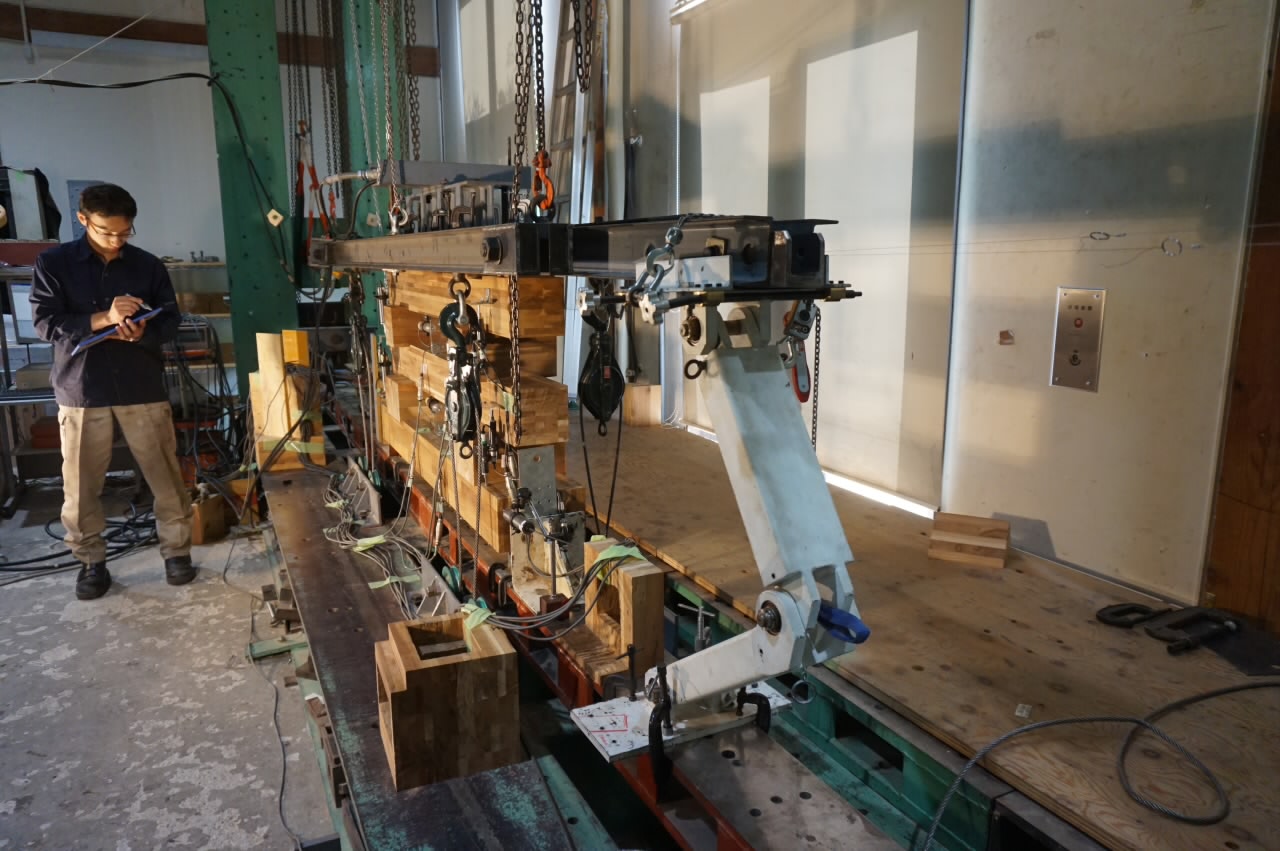 図 インドネシアSimalungun族の伝統構法技術の評価実験.
Structural health monitoring systems for timber-based buildings
Structural health monitoring systems allows for the rapid assessment of the health of a building, and are recognized as some of the best means available to increase safety and optimize operational and maintenance activities. We are now developing a structural health monitoring system for timber buildings and will deliver reliable data from our monitoring systems to allow owners to improve operations, maintenance, and repairs, and to identify the need to reinforce structures and to maximize the useful lifetimes of the buildings.

図 個別建物のモニタリングと主要な研究テーマ.
Publications, etc.
Kitamori, S.-Y. Yeo, T. Aoyama, Y.-L. Chung, T. Mori, M.-F. Hsu, K. Komatsu, H. Isoda, Experimental study on restoring force of Japanese traditional column combined with tie beam and bearing block, Proc. of WCTE2016, 2016.
Sok Yee Yeo, Kohei Komatsu, Min-Fu Hsu, Zeli Que (2016). Mechanical model for complex brackets system of the Taiwanese traditional Dieh-Dou timber structures. Advances in Structural Engineering, 19(1), pp.65-85.
Research4: High-performance wood-based materials (Kozo Kanayama, Kenji Umemura, Soichi Tanaka)
Effective utilization of wood and wood-based materials will contribute to preventing both global warming and the depletion of natural resources. To realize the successful long-term usage of wood as materials, recycling techniques must be developed and the functions of bulk wood must be enhanced. To achieve these requirements, we promote the development of natural adhesives for wood-based materials and of impregnation techniques for removing tissues that disturb the permeation of solution for wood-chemical-treatment, respectively.
Research Activities
Effect of calcium carbonate on adhesion properties of a natural adhesive composed of sucrose and ammonium dihydrogen phosphate.
Effect of abrupt pressurization on liquid penetration into wood in the impregnation process.
Publications, etc. (In Japanese)
科研費:田中聡一, 研究活動スタート支援 "木材の含浸処理に関する基礎研究「急加圧による処理液通導阻害部の破壊」", 課題番号:16H06895, 採択期間:2016/8/26-2018/3/31.