The MU radar is a major observation facility in the Shigaraki MU Observatory of the Research Institute for Sustainable Humanosphere (RISH), Kyoto University. The MU radar is one of the moist powerful and multi-functional VHF-band atmosphere to observe the lower, middle, and upper atmospheres.
The MU radar can monitor the atmosphere at the height of 1-25 km in the troposphere and lower stratosphere, 60-100 km in the mesosphere and lower thermosphere, and 100-500 km in the ionosphere.

●Wide observation range
●Continuous observation without the interruption time is available.
●Observation regardless weather conditions is possible.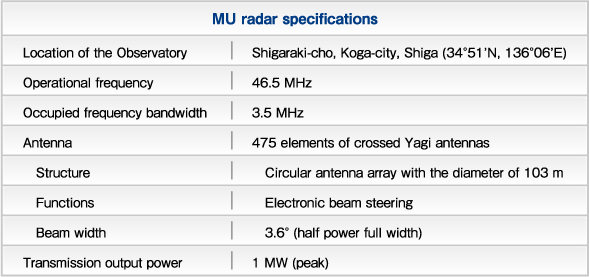 The MU radar operarates its transmission and reception by using 475 semiconductor transmitter–receiver (TR) modules, each of which is connected to individual antenna elements. The major advantage of this system is as follows.
● The MU radar can steer the direction of radiowave very fast (2500 times per a second) to obtain the three-dimensional structure of wind velocity and turbulence structure.
● By controlling antenna and TR module electrically, various complicated observation methods can be switched instantaneously.