TMU Lidar Photoncount Mode (High sensitive)
---
Equatorial Atmosphere Radar (EAR)
EAR is a large Doppler radar built for atmospheric observation at the equator in West Sumatra in the Republic of Indonesia. It was completed in March 2001, a collaboration between the Research Institute for Sustainable Humanosphere (RISH), Kyoto University and the National institute of Aeronautics and Space of Indonesia (LAPAN).
The EAR has a circular antenna array of approximately 110 m in diameter, which consists of 560 three-element Yagis. It is an active phased array system with each Yagi driven by a solid-state transceiver module. This system configuration makes it possible to direct the antenna beam by electronic control up to 5,000 times per second.
The EAR transmits an intense radio wave of 47 MHz to the sky, and receives extremely weak echoes scattered back by atmospheric turbulence. It can observe winds and turbulence in the altitude range from 1.5 km to 20 km (troposphere and lower-stratosphere). It can also observe echoes from ionospheric irregularities at heights more than 90 km.
Specifications of the EAR

Location: 100.32E, 0.20S, 865 MSL
Frequency: 47.0 MHz
Output power: 100 kW (Peak envelope)
Antenna system: Quasi-circular active phased array (110 m diameter, 560 three-element Yagis)
Beam width: 3.4 deg. (Half power, one way)
Beam direction: Anywhere (within 30 deg. zenith angles)
Observation range: 1.5 km-20 km (Atmospheric turbulence), > 90 km (Ionospheric irregularity)
Research topics with the EAR

High-resolution observations of wind vectors will make it possible to study the detailed structure of the equatorial atmosphere that is related to the growth and decay of cumulus convection.
From long-term continuous observations, relationships between atmospheric waves and global atmospheric circulation will be clarified.
By conducting observations from near the surface to the ionosphere, it will be possible to reveal dynamical couplings between the equatorial atmosphere and ionosphere.
Based on these results, transports of atmospheric constituents such as ozone and greenhouse gases, and the variations of the Earth's atmosphere that lead to climatic change such as El-Nino and La-Nina, will be revealed.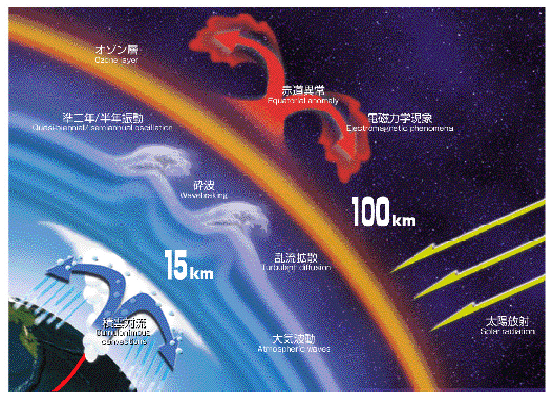 History to the EAR

Study of atmospheric dynamics with the MU radar completed in 1984 in Shigaraki, Japan.
Cooperative study of equatorial atmosphere between RISH and institutes in Indonesia.

PUSPIPTEK Radar Observatory operated by RISH and BPPT.
MF Radar observations with RISH, LAPAN and University of Adelaide (Australia).
Radiosonde observation campaign with RISH, LAPAN, and BMG.
Cooperative feasible study for the EAR with RISH, LAPAN, and BPPT.

Note: BPPT: Agency for Assessment and Application of Technology, BMG: Meteorological and Geophysical Agency
Operations of the EAR

The EAR and the Observatory will be operated under international collaboration of scientists from Japan, Indonesia and other countries/areas.
The EAR will be the core facility of the atmospheric radar network around the equator operated by Japan, USA, Australia, etc.
The Observatory will expand by installing other instruments, i.e., radiosonde, lidar, etc.
Location of the EAR

Equatorial Atmosphere Observatory
Bukit Koto Tabang, Tromol Pos 16, Bukit Tinggi 26100, West Sumatra, INDONESIA
Jakarta-Padang: 2.0 h by air
Singapore-Padang: 1.5 h by air
Padang-Bukittinggi: 2.0 h by car
Bukittinggi-EAR: 1.0 h by car
Photo and Video

Photos of EAR and Observatory
Drone video (August 23, 2019)
Other related documents

EAR Pamphlet (2MB)
EAR Flyer (0.7MB)
EAR 20th Anniversary Brochure (2MB)

Papers presnted at refereed journals

List of papers is available from here.